Educational Impact Among Black Youth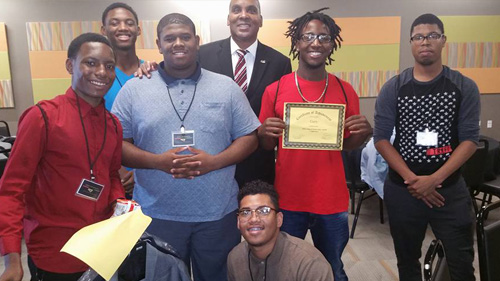 PROJECT SOAR
Student Opportunities, Access, and Readiness
Mission
100 Black Men of America, Inc. (The 100) is dedicated to improving the quality of life and enhancing educational and economic opportunities for all African Americans.  ProjectSOAR seeks to increase college and career readiness among African American students in particular communities served by The 100s network of chapters.
Program Overview
Project SOAR is a dynamic platform through which the 100 can expand its impact in education along three dimensions:
Achievement among students directly served by The 100; Educational options in communities served by The 100; and
The reform-orientation of the policy environment more broadly.
Project SOAR will incorporate five complementary components:
Core components
 Mentor youth, grades 3–12, face-to-face: Use the 100's existing mentoring program to forge relationships that fulfill social, emotional, and cultural needs
Provide access to wraparound services and academic support models: Supplement youth's academic and lifestyle preparation for college by forming partnerships with other high-quality out-of-school time providers
 Advocate for reform: Support policies at national, state, and local levels that will lead to improved quality of educational options and experiences.
Elective components
 Strengthen traditional public schools: Facilitate partnerships between high-quality school-based interventions and local schools to enhance the educational experience for students in traditional public schools
 Create new school options: Partner with charter school operators to increase access to and availability of high-performing schools in communities The 100 serves.
For starters, Chapters will need to be certified to participate in Project SOAR. The 100 will require all participating Chapters to implement the core components; Chapters may choose to implement elective components based on Chapter interest, Chapter capacity, and community need. While day-today implementation of Project SOAR will lean heavily on The 100's local Chapter network, National Headquarters will coordinate programmatic design, most partnerships and quality assurance.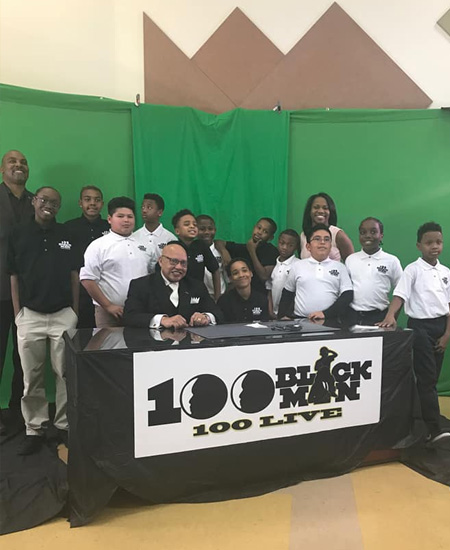 Goals
The 100 seeks to increase the college and career readiness of youth in its communities, as demonstrated by academic, cognitive, behavioral, and contextual skills. Ultimately, success will be measured by youth graduating from high school and prepared for post-secondary completion (without the need for remediation) and careers, and to make positive contributions to their communities.
In the interim, Project SOAR is intended to achieve the following goals:
Students have the motivation, behavior, attitudes, and skills to perform at high levels of academic achievement
Parents and communities are actively engaged in students' success
Policy at all levels addresses educational needs of students from consistently marginalized communities
High-quality educational options are available to the entire community.
The 100 will measure progress against these intermediate goals using a set of metrics that research has shown to correlate with college and career readiness. These metrics include, but are not limited to:
Increased school attendance (reduction in absenteeism)
Reduced number of disciplinary incidences
Proficiency on state examinations and National Assessment of Educational Progress (NAEP)
Increased participation in grade-appropriate college prep courses (e.g., Algebra I, Advanced  Placement)
Improved Grades in core courses
Increased on-time grade-level promotions and High school graduation rates
Increased post-secondary matriculation and completion.
Plan to Launch
The 100 completed a five-month planning engagement for Project SOAR, through which it refined the project's goals and high-level strategy, detailed the programmatic elements, designed an advocacy model, outlined a performance measurement system, and estimated organizational and financial resource needs. Next, the 100 will prepared for launch by:
Developing curricula and standards for 100-executed program elements
Identifying strategic partners for co-branding and co-funding
Sourcing and selecting successful and evidence-based external providers
Building The 100's National Headquarters infrastructure and a development plan and approach to secure funding for implementation
Designing and implementing the performance measurement system to track success
Selecting and training the initial cohort of Project SOAR Chapters.
Resource Requirements
To fully implement Project SOAR, The 100 will need to add 5-6 FTE resources, in addition to the currently vacant President, and other senior-level positions for Finance and Programs. These roles will be integrated into the overall 100 Black Men of America organization. In addition, The 100 has outlined specific Project SOAR rights and responsibilities for the National office and Chapters.
The 100 has developed budget projections for the resources needed to develop and launch Project SOAR over the next five years. These projections outline an annual budget for Project SOAR of approximately $0.9-2.4M, with total five-year funding projections of ~$8.6M. The 100 will seek funding for Project SOAR through a mix of local and national philanthropic, government, and corporate gifts.
1 The term "College" is used to refer to a broad set of post-secondary educational opportunities and technical training, community college, four-year university programs, etc.
[1] The term "College" is used to refer to a broad set of post-secondary educational opportunities and technical training, community college, four-year university programs, etc.
Energy (Powerful Partnership Scholarship) and The Public Education Foundation we have held a Scholarship Workshop. The workshop was designed to inform high school seniors on how to complete scholarship applications, raise awareness of the availability of local scholarships and teach students and their parents the key elements of successful applications. According to NV Energy, there have been a record number of applications submitted this year.
To Learn More, Contact Us