Who We Are
MISSION
To create environments where children and their families are inspired to dream, challenged to achieve and empowered to become self-sufficient shareholders in the community.
REAL MEN GIVING REAL TIME®
The 100 Black Men of America was formed in 1963 by a group of prominent leaders, including Major League Baseball's Hall of Fame legend Jackie Robinson, to improve the quality of life and enhance the educational opportunities of African Americans in a unified, collaborative, pragmatic effort. There are over 103 chapters with over 10,000 combined members in several countries.Founding President Larry Mosley, Randall Bacon and several committed men formed the Las Vegas Chapter in 1999 to make a difference in the Las Vegas community. The 100 Black Men of Las Vegas, Inc. became a chartered member of the 100 Black Men of America in the year 2000.
The organization achieved a 501(c)(3) designation as a non-profit organization and donations can be used as a tax deduction. Since its inception, the Las Vegas Chapter has taken great strides in membership growth to over 100 men in 2004. These men believe in brotherhood as the staple of the organization. While the organization is predominately black men, membership is open to everyone who meets certain criteria. Women are involved in our organization, carrying out various roles and responsibilities.
President's Message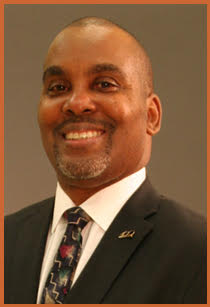 As we enter the new year, nationally, the 100 Black men of America, Inc., is celebrating the successful completion of 30 years of community service since we incorporated in 1986. While locally, the 100 Black Men of Las Vegas, Inc., has worked in collaboration with the Las Vegas community since our incorporation in the year 2000. It is our sincere plan, in 2017, to continue mentoring our great mentees and working in unison with their families. As many in our nation are using the new year to make new goals and take on new challenges, we will also use this moment in time to rededicate ourselves to accomplishing the missions of the 100 Black Men of America, Inc, and of our local chapter. Irrespective of any challenges facing this nation, our focus continues to be on providing leadership in our key core competencies of Mentoring, Education, Health & Wellness, Economic Empowerment and Leadership Development.
Nationally, our country is witnessing the democratic process expressed at levels rarely, if ever, seen in many of our lifetimes, while locally we are facing a major school reorganization and the uncertainty that this change will bring. It is during these challenging times that the 100 Black Men of Las Vegas looks to strengthen our relationships with our community partners and sponsors, as we realize that we cannot be sidetracked from our mission of providing quality mentoring, guidance and encouragement to the youth in our community.With the overwhelming amounts of chaotic information reaching our youth, via social media, television, radio or from any number of external sources, it is important that they also hear words of calm and encouragement.
Our chapter will continue to ensure that our mentees, and their families, understand that in the midst of uncertainty, we will speak out on their behalf while also continuing the bedrock programs that define who we are. During this first quarter of 2017, we will continue to expose our mentees to many events throughout the community, such as the Martin Luther King Jr. Banquet and Parade, education town halls and calls-to-action, Black History events/activities and a trip to Carson City to interact with legislative officials, just to name a few. As stated by our national Chairman of the Board, Curley M. Dossman, Jr., "Together, through our hard work and our resources, we can make our communities better than ever before." On behalf of the 100 Black men of Las Vegas, we look forward to an engaging and productive year. In service to our community,
~ Shawn T. Smith, President 100 Black Men of Las Vegas, Inc. "What They See, Is What They'll Be"
Real Men Giving Real Time®