Who We Are
MISSION
To create environments where children and their families are inspired to dream, challenged to achieve and empowered to become self-sufficient shareholders in the community.
REAL MEN GIVING REAL TIME®
The 100 Black Men of America was formed in 1963 by a group of prominent leaders, including Major League Baseball's Hall of Fame legend Jackie Robinson, to improve the quality of life and enhance the educational opportunities of African Americans in a unified, collaborative, pragmatic effort. There are over 103 chapters with over 10,000 combined members in several countries.Founding President Larry Mosley, Randall Bacon and several committed men formed the Las Vegas Chapter in 1999 to make a difference in the Las Vegas community. The 100 Black Men of Las Vegas, Inc. became a chartered member of the 100 Black Men of America in the year 2000.
The organization achieved a 501(c)(3) designation as a non-profit organization and donations can be used as a tax deduction. Since its inception, the Las Vegas Chapter has taken great strides in membership growth to over 100 men in 2004. These men believe in brotherhood as the staple of the organization. While the organization is predominately black men, membership is open to everyone who meets certain criteria. Women are involved in our organization, carrying out various roles and responsibilities.
President's Message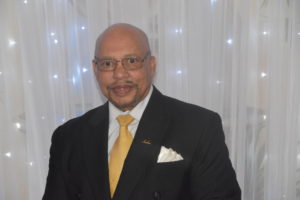 First and foremost I would like to thank you for your trust and for electing the Executive Team, as your leadership. The team and I prefer Executive Team instead of Board of Directors. You find that this team of professionals will be very engaged with committees, community advocacy and mentoring, while serving on your committees. It is indeed a dream team making up of three former Chapter Presidents, three business executives, three military professionals, a Physician, a Military General, a word class professional actor, and a former Director and Governors Cabinet Member.   We are honored to serve the 100 Black Men of Las Vegas, Inc., and do not take our obligation lightly.
I am grateful to the previous presidents and boards who worked hard to gain the momentum down the runway to take us to new heights. Now we are taking off. Our credo is Wheels Up!
I served this chapter on three previous occasions as President.   I'm back because of unfinished business. Twenty-five men joined me in 1999 and started planning and developing the Las Vegas Chapter of the 100 Black Men. The majority of these men were from Detroit, Chicago, and California. These founders realized that Las Vegas would be their final resting place, and their 100 endeavors would define their LEGACY.
The major component of my un-finished business is making sure that LEGACY is appropriately recognized.
The unfinished business for this administration is leaving a trail for the future. It must include increasing membership, expanding mentoring pathways, community advocacy (Project SOAR) collaboration, succession planning, and internal and external leadership development.
MY VISION:
Increase membership by 53 men by 2/17/2018
Focused Recruiting: Develop a team of active and non active military members to develop a strategy for recruiting potential military members
Develop strategy to reengage former members
Develop strategies for recruiting specific talent
Enlarge the Mentoring Programs Footprint and partner with programs that our members are participating and sponsors we are funding
The mentoring programs at Wendall P Williams, Rainbow Dreams Academy, the Academy of Excellence, will continue to benefit from the our resources.
Together with our strategic partners, we will reach new heights of serving our community.
~ Larry J. Mosley, President 100 Black Men of Las Vegas, Inc. "What They See, Is What They'll Be"
Real Men Giving Real Time®